"𝐼𝑓 𝑦𝑜𝑢 𝑎𝑟𝑒 𝑐𝑜𝑙𝑑, 𝑡𝑒𝑎 𝑤𝑖𝑙𝑙 𝑤𝑎𝑟𝑚 𝑦𝑜𝑢;
𝐼𝑓 𝑦𝑜𝑢 𝑎𝑟𝑒 𝑡𝑜𝑜 ℎ𝑒𝑎𝑡𝑒𝑑, 𝑖𝑡 𝑤𝑖𝑙𝑙 𝑐𝑜𝑜𝑙 𝑦𝑜𝑢;
𝐼𝑓 𝑦𝑜𝑢 𝑎𝑟𝑒 𝑑𝑒𝑝𝑟𝑒𝑠𝑠𝑒𝑑, 𝑖𝑡 𝑤𝑖𝑙𝑙 𝑐ℎ𝑒𝑒𝑟 𝑦𝑜𝑢;
𝐼𝑓 𝑦𝑜𝑢 𝑎𝑟𝑒 𝑒𝑥𝑐𝑖𝑡𝑒𝑑, 𝑖𝑡 𝑤𝑖𝑙𝑙 𝑐𝑎𝑙𝑚 𝑦𝑜𝑢."
How true these lines are! Chai for us isn't just a drink, it's an emotion, a ritual, an indispensable part of our daily life.
So here's the story of a Chai Enthusiast, a face behind the brand 'चाय𝐒𝐮𝐭𝐫𝐚' – Mr. Vaibhav Paliwal.
His love to travel and connect to people, also as an MBA grad in Marketing, frequent opportunities of work trips across the country while working in the field of branding, advertising, strategic planning lead him to the many places. During those 9 years, he covered all the states of India- stayed in villages, small towns, metro cities, met different people and relished regional food. All these experiences ignited a very novel and exotic idea! He started an online store some 7 years back selling regional speciality products. To name a few- Kashmiri Kesar, Assam Tea, Kerala Snacks and Spices etc.
As the core of the initiative was to deliver the experience of regional specialities and connect people, he thought why to restrict it to only as an online store? It pushed the idea to another brilliant format and he started an experience centre as a tea room and community space named Nukkad Cafe at Viman Nagar in 2015- a place to connect people over a cup of chai, arts, poetry, music and anything that helps you to explore creativity! People liked this interesting concept. Now one thing that's common and USP of his both the ventures is Tea/Chai. People loved their special masala chai, which is a blend of Assam Chaipatti and various Indian spices and other tea blends which were served at the cafe and soon he started selling chaipatti in retail packs.
The Pandemic situation has affected almost everyone and businesses as well. As movement is still limited, it doesn't mean we cannot relish a good cup of chai. And especially in these times, a good cup of chai refreshes our mood and rejuvenates us. Seeing this as an opportunity, Vaibhav decided to expand his already running business under the brand name 'चाय𝐒𝐮𝐭𝐫𝐚'!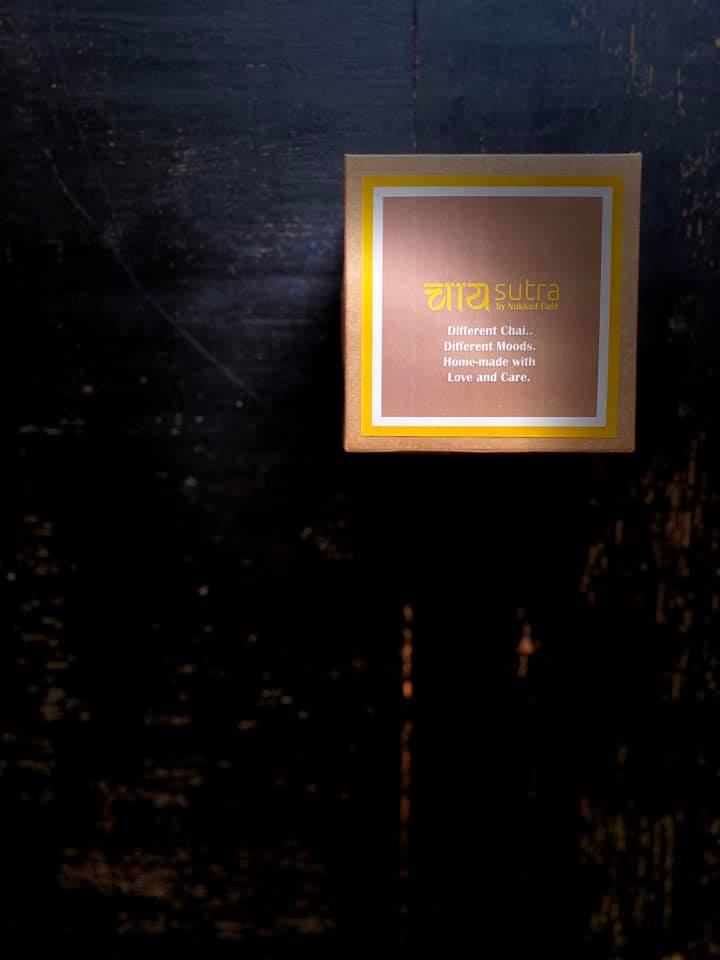 If there's one thing that Indians love unanimously, it is Chai, transcending all boundaries! Chai is all-pervasive, be it a moment of celebration or making way through difficult times. While most of us are still working remotely from our homes, I am sure you must be missing customary visits to your 'adda' or 'tapri ki chai'' but still must be having at least a cup or two more than earlier while staying at homes.
So here is 'चाय𝐒𝐮𝐭𝐫𝐚' bringing you the best of Tea Experiences, curated for your palate and at your home. As their Tagline says-
𝘿𝙞𝙛𝙛𝙚𝙧𝙚𝙣𝙩 𝘾𝙝𝙖𝙞..𝘿𝙞𝙛𝙛𝙚𝙧𝙚𝙣𝙩 𝙢𝙤𝙤𝙙𝙨.𝙃𝙤𝙢𝙚-𝙢𝙖𝙙𝙚 𝙬𝙞𝙩𝙝 𝙇𝙤𝙫𝙚 𝙖𝙣𝙙 𝘾𝙖𝙧𝙚!
You can get their special masala tea blend for a quick nice cup or there's CTC tea sourced from tea estates in Assam. For those who love delicate, soothing, fragrant blends, Rose Chamomile and Lavender Hibiscus with lemon, known for their antioxidants properties and other health benefits, are also available. Do give it a try, before you fix yourself a steaming hot cup of tea next time.
Avail POI exclusive offer of 25% flat off here-https://puneorders.in/peo/chaysutra/