The Fish Thali, Tukaram Paduka Chowk, FC Road Pune
#PEOpleStories
Mother is the necessity for invention. Yes you read that write and I did NOT right it wrong …..sorry you read that RIGHT and I did not WRITE it wrong.
But seriously, in this story of The Fish Thali, a mother is the hero and it is indeed a privilege for me to know her in person.
And the mother is Mrs. Rajashree Samel – the main driving force of The Fish Thali and whose son Hrishikesh and daughter-in-law Shibani, all together are the ones who steer this amazing food bandwagon to glory.
Going back in history just a little bit, Hrishi and Shibani or none of their family were in the restaurant business and these two were going about their dull jobs in the management domain. And one day, Hrishi said Enough is Enough. He quit his job and decided to venture into the food and catering domain. They started off with a small cafe in town and then slowly amplified their goals to opening up a bigger place. Hrishi also started his catering services in the form of canteen catering in major IT companies in Pune while managing his other eatery skillfully.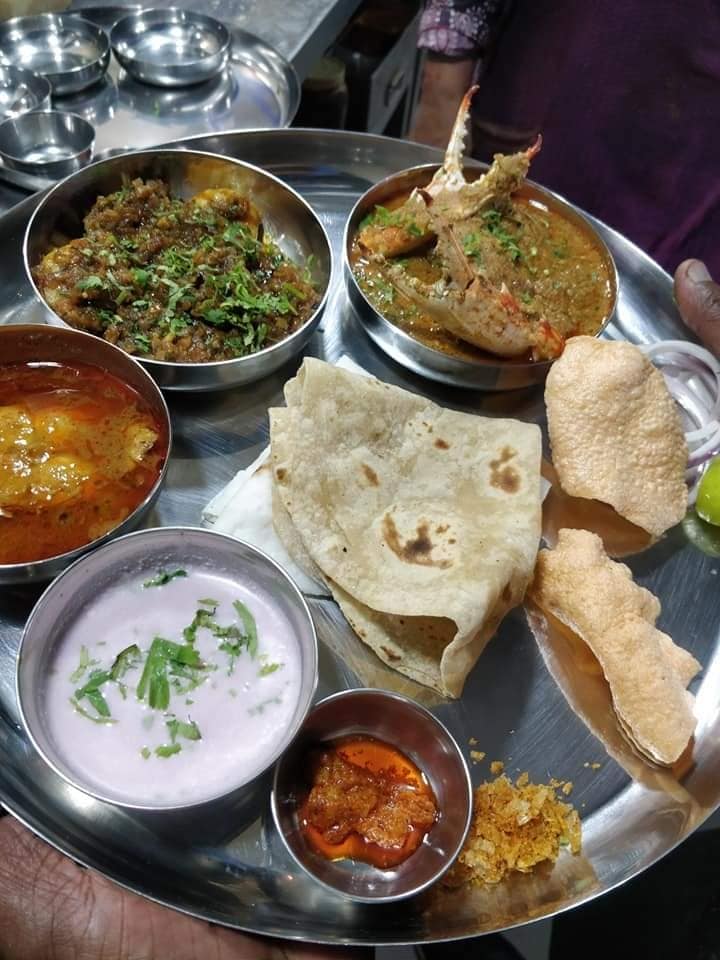 Hrishi's father was a huge foodie, rather a super-huge foodie and was always very curious when food was being prepared, prompting his wife to add this or that in the dish being cooked. Basically, he was super eager to try out new dishes and eateries in all the different cities he stayed in India during his employment years before finally settling down in Chiplun. And from what Hrishi and Shibani described I would say that his wife, Rajashree Samel was not his better half but his amazing integral half, who stood by her husband like his shadow all along. Unfortunately, the father was diagnosed with cancer and he lost the battle after 3 years of putting up a huge fight. The loss was an irreparable one to the family but mostly left an enormous void in the life of Mrs. Rajashree Samel. She was not a social person at all and Hrishi and Shibani could see their mother was sinking in the sadness and something had to be done urgently to get her back to 'life'.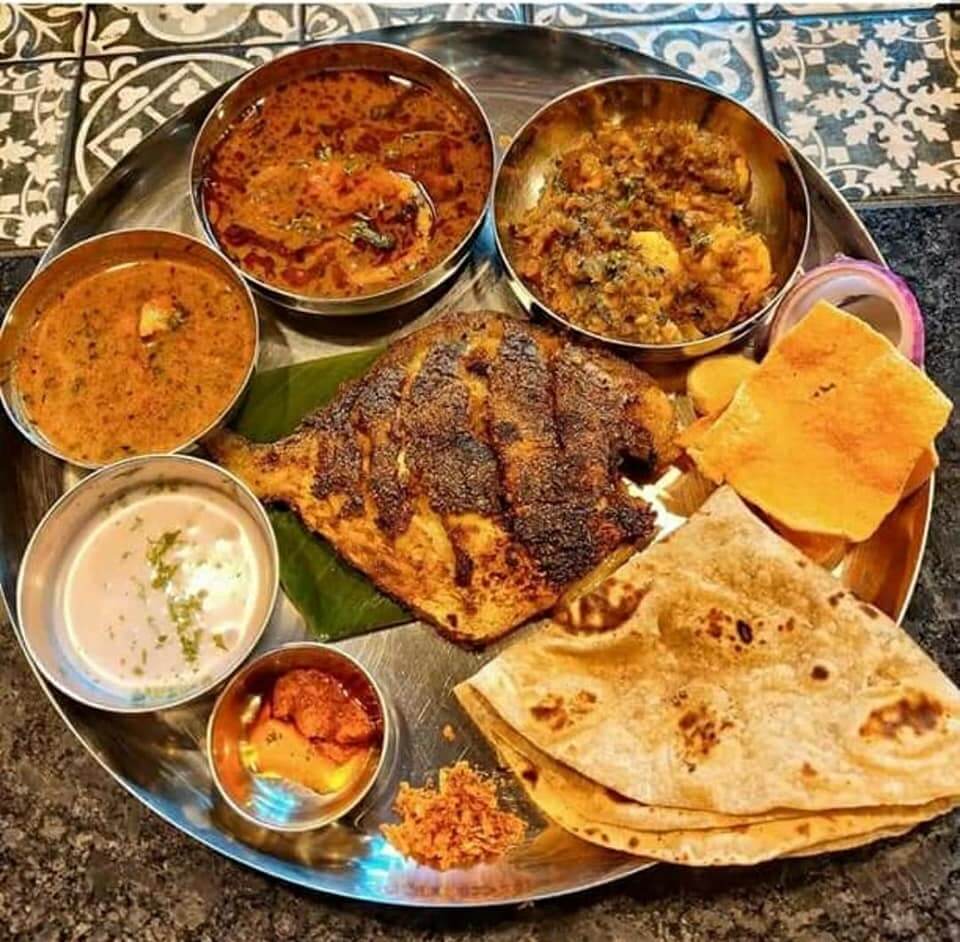 It was a well-known fact to the entire family that Mrs Samel had learnt a lot of recipes and picked up clever tricks and tips all throughout her life, from various cities she stayed with her husband. So there was this perennial joke in the family that she should start a fish eatery putting her culinary skills to good use. One more striking fact of the mother is that she is excellent in her measures of ingredients to be put in her recipes. She knows the quantity of ingredients to be put in the recipes by hand, literally and that makes the recipe perfectly delicious. There is absolutely no alternative to this method in this world.
Initially, Hrishi and Shibani were both a bit apprehensive whether Mrs. Samel would be able to work in a commercial environment as there is quite a big difference in managing the home kitchen and a commercial one. But to their surprise, Mrs. Samel accepted the challenge confidently and that ignited the idea for their new restaurant.
Luckily, the Samels got a prime location on FC road for their new venture and upon much racking their brains about a name for it, they simply decided to name it The Fish Thali as they wanted to concentrate only on seafood and nothing else, no mutton, no chicken but just seafood. And the name rightfully portrays the same without any distraction.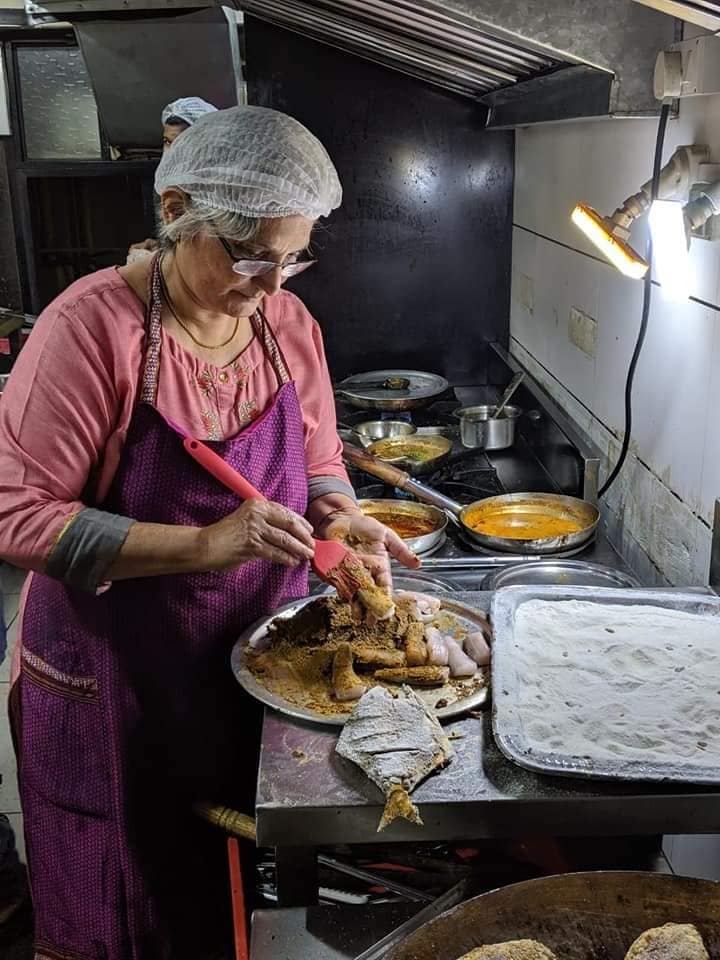 Cooking apron on, Mrs Samel today has become a darling figure among the regular customers of The Fish Thali. She has trained the chefs well and when you eat at this restaurant, you will realise that these are absolutely and genuinely home recipes that you must have had either at your own place or at a relative's or friend's place. There is zero commercial factor in the recipe and it just gives you that level of satisfaction which is nothing short of divine.
I have eaten multiple times at the Fish Thali and trust me, the experience is nothing short of "maa ke haath ka pyaar-bharaa khaanaa". Mrs Samel exudes warmth, love, passion, care for everything and it is a delight talking to her. She wholeheartedly comes out of the kitchen to talk to her customers and there is no absolutely no hiding of any trade secrets when it comes to explaining the recipes to them. She and also everyone else knows that no one can copy her magic, no matter how meticulously follow her recipes to the dot. The magic lies within the magician and not the recipe.
Moral of the story: There is no moral to the story. There is a portal to this story www.puneorders.in/peo/thefishthali where you can order this supremely delicious seafood and enjoy your meals to the satisfaction of your soul.
And in other fantastic news!! – Now you can also unleash the magician in you with The Fish Thali. TFT is now introducing DIY (Do It Yourself) Sea Food Kits for your cooking pleasure at home. Cleaned fish/prawns along with those amazing masalas and marination pastes from their kitchen and of course abundance of love from mother Mrs. Samel, will make your family meals very memorable. I am sure this is music to the ears who are huge, loyal fans of TFT and those who haven't yet tried TFT, you are missing one of the best seafood in Pune, big time. So this is the right time to order!!
PEOple Story by Amit Dharwadkar