Feature Image Credits: Pink Turbann
Even with the diverse culture in our country, we Indians bond over one thing for sure- Our traditionally rich food. Winter is the time to indulge in the seasonal delicacies and welcoming the season are the Punjabis with their soul-comforting Sarson da Saag and Makke di Roti.
Give those dinner cooking sessions a miss, and gorge on this comfort food at these places in Pune.
Dilli Chaatt Darbaar
Talk about Saag and this is one name that PEOple won't miss, even in their dreams. Aromatic saag and Makke di Roti with a dollop of makkhan and some jaggery.. we know you're already drooling.It's time you leave for Dilli Chaat Darbaar then. You might also want to indulge in their chaats and jalebis.. just saying!
Where:
Shop 2, Seashell Apartments, Opposite BSNL Telephone Exchange, Narayan Annaji Shinde Road, Salunkhe Vihar Road, Pune
Cream craver:
Think of cream craver and you're instantly reminded of their paav bhaaji. The next time you visit this place make a note to try their Sarson da Saag with makke di Roti.
Where:
Camp: Bund Garden Road, Bootee St, Opposite Dastur Co-Ed High School, Agarkar Nagar, Pune, Maharashtra 411001
Kondhwa:Shop 16, Mandot Towers, Opposite Shanti Nagar Society, Kondhwa, Pune

Bebe Di Rasoi:
Moms are all about feeding their kids with makkhan and lots of pyaar, and Bebe is here to bless you with some delicious 'Ghar ka Khaana'. Next time you pick up your phone to order food, give the saag from 'Bebe di Rasoi' a try. Not to miss the sweet handwritten note from Bebe.
Deliverying homely experience via Zomato & Swiggy in and around SB Road, Wakad, Amanora and Kalyani Nagar.
Shreeji Naan & Paratha:
Another place serving this winter delicacy is the Shreeji Naan & Paratha. You might want to give your usual dinner a miss and gorge on the delicious saag with makke di roti here.
Where:
Pradhikaran, Nigdi, Pimpri-Chinchwad, Maharashtra 411044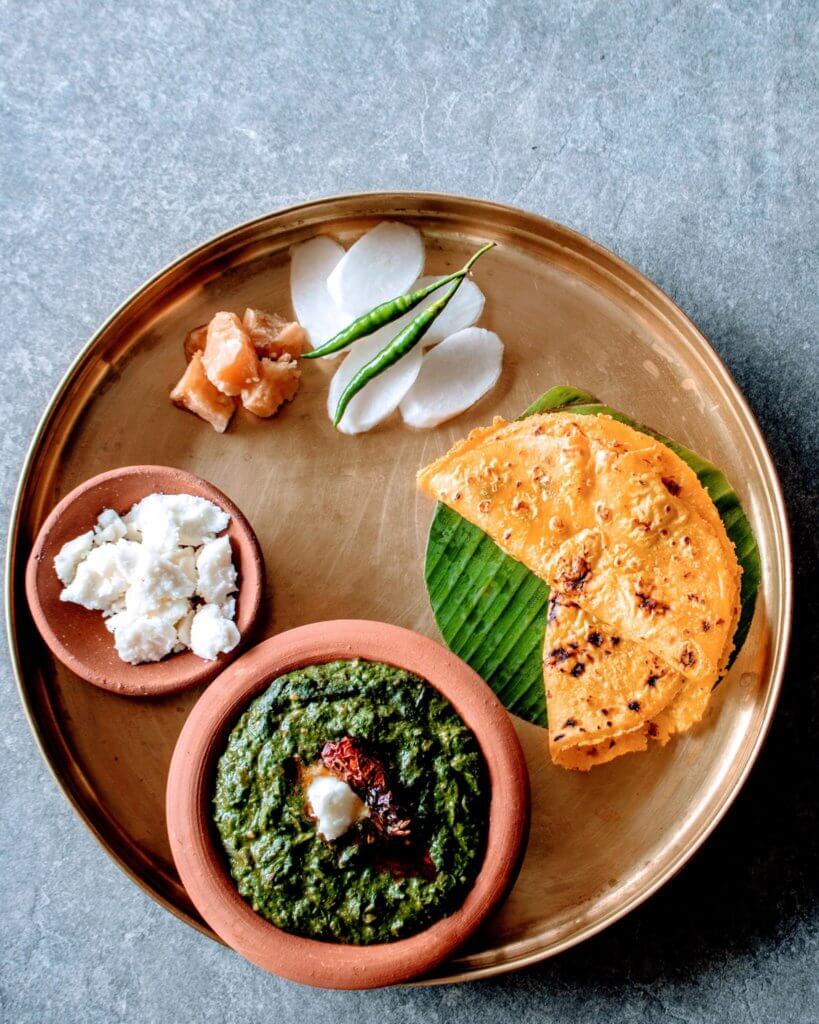 Dalchini:
Like every year, Dalchini is here with its Winter Menu, and you must visit this place for a hearty meal of Sarson da saag with makke di roti. Not to forget, they are Friends of PEO.
Where:
3rd Floor, Shri Shankar Bhavan, Paud Road, Pune

Aaoji Khhaoji:
You must've heard about aaoji khhaoji for their unique thalis, especially the Bahubali Thali. This place also has become quite a favourite amongst foodies for their sarson da saag and makke di roti, and you must try it too, if you call yourself one.
Where:
J. M. Road:Laxmi Sadan, 1263, Jangali Maharaj Rd, Opposite Service Petrol Pump, Pune, Maharashtra 411004
Bopodi:Shop 31, Raghukul Nagari, Opposite Patil Complex, Ambedkar Chowk, Bopodi, Aundh Road, Pune, Maharashtra 411020
Shahji's Paratha House:
Having made a place in the hearts of Punekars with their parathas, this place is all set to serve some delicious Sarson da Saag- Makke di Roti with jaggery, raddish salad and raita.
Where:
Laxmi Road: 5, Devang Apts, 1036, Laxmi Road, Raviwar Peth, Pune
Deccan:The Coronet Hotel, 1205/4, Apte Rd, Deccan Gymkhana, Pune
Khalsa Veg:
This place needs no introduction for their chaaps and tikkas, and so does their parathas and thalis. This time head to Khalsa Veg for their Sarson da Saag & Makke di Roti to get a taste of North India right here in Pune.
Where:
Khadki: 491, Elphinston Road, Rajiv Gandhi Chowpati, Khadki Bazar, Pune, Maharashtra 411003
Baner: Khalsa Veg, Shop No: 2 Next to Chandrakant Laundry and siddhi dry cleaners Opposite Sautamali temple, Baner Rd, Pune, Maharashtra 411045
Kharadi:Near, Shop No. 6, Gracia Opposite Forest County Gate No. 1, Eon Free Zone Rd, Kharadi, Pune, Maharashtra 411014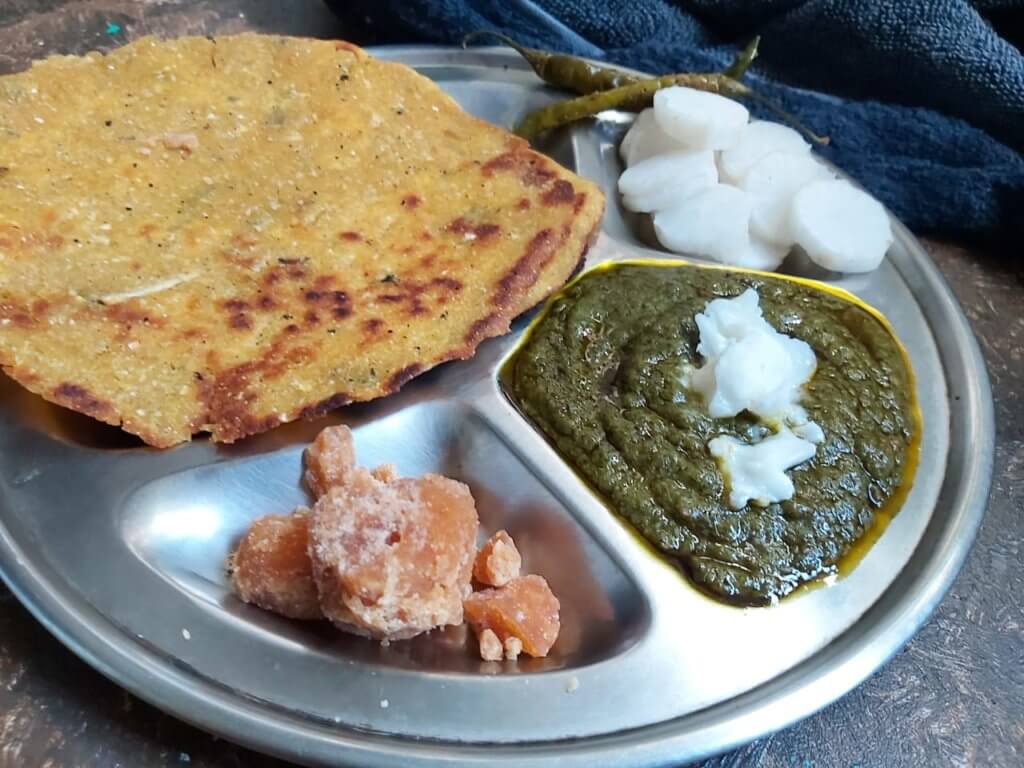 Lal Mirchi
This place has already created a mark with its unmissable kebabs and tandoors. Serving delicious North Indian cuisine, Laal Mirchi is here this winter with sarson da saag n makke di roti. What's more? They're Friends of PEO.
Where:
Shop no 1, Simran Corner, Govind Garden Chowk, near Naturals Ice Cream, Pimple Saudagar, Pune, Maharashtra 41102
Pink Turbann:
Not just their chole bhature, but Punekars vouch for their Parathas and chaats too. 'Sarson da Saag- Makke di Roti' season is here and next time you're hungry, head out to this place to have a soul- satisfying meal.
Where:
No. 20, Tejaswini 1, DP Rd, opposite Medipoint Hospital, Aundh, Pune, Maharashtra 411007
We are already drooling while writing about this winter delicacy and heading out for a yummy dinner of Sarson da Saag and Makke di Roti tonight. It's time you should too. 🙂