Ambarsariya Authentic Amritsari, Kharadi.
Credits for finding this place goes to my brother. He came across an Instagram profile with amazing food pics and later he was surprised to find out that it was a restaurant in Kharadi that we had never heard of. They opened their doors on 13th December.
He went there for dinner the same day and when he returned he was "head over heels" with this place and urged me to visit them to try their food.
Next day, mom-dad had returned from their 2 week long buddha-Gaya trip and I thought it was best reason to go out for dinner. Mom will take some rest from cooking and they can share the travel stories over some good food.
The place looks very inviting from the outside. adequately lit up, vibrant colors.
The ambience is so nicely done. They have not over done it and at the same time kept a check of the details to give it a dhabh look. Something I saw at pathankot or Murthal.
So they have a A/C seating, non AC and outdoor seating.
Service was attentive with a smile.
food came in well in time. The owner and chef walked up after the meal to check for any suggestions/feedbacks and i had only praises for them😁
What all did we order :
Full Tandoori Kukkad
Amritsari Fish Tikka
Tandoori Mushroom
Amritsari Prawn Masala
Smoked butter chicken
Laccha Paratha/Missi Roti/Butter Roti
Daal Tadka – Jeera Rice
Gulabjaam
Paan shot
Lassi
As we settled down, they served welcome drink – Jaljeera in shot glass.decent stuff. Dad requested for another and the server obliged and got one for him.
Then came on the starters – Tandoori Kukkad & Amritsari Fish Tikka.
The sight of the tandoori itself was so satisfying. It looked so well done, juicy and not over done in the tandoor. At many places we see the marination is over charred in the tandoor but this was not the case here. It tasted so heavenly – juicy and it just melted with the 1st bite and worth mentioning think – no added color.
The fish they use is Basa. Personally I am not a big fan of basa in any form 😂 but this fish tikka was all worth it. One of those few times when the basa looked so tempting – i tried the last piece and it was perfectly done. The marination was the trick. Pretty nicely done.
Tandoori Mushrooms – Actually i ordered this after placing order for the main course and probably confused the server – he was more like – sir, abhi toh main course ka order diya😂 ab firse starters! After trying the tandoori chicken and fish i was more interested to try the mushroom and it lived up to the expectations. Drool worthy.
Amritsari Prawn Masala – perfectly cooked prawns, Onion-tomato base gave the curry a tangy-sweet after taste and masala was on a spicy side. This combination is not something I could describe perfectly but worth a try. Goes so well with the Missi Roti.
Smoked butter chicken – this was not as per my expectations of a butter chicken but not bad either. Everyone else loved it. May be they would have served it with a different name and i would have loved it more😛 but not as "butter chicken". My brother had it a day earlier & enjoyed it with us too.. so worth a try to check if it suits your taste buds.
The laccha Paratha is worth a mention. Layered, flaky and soft.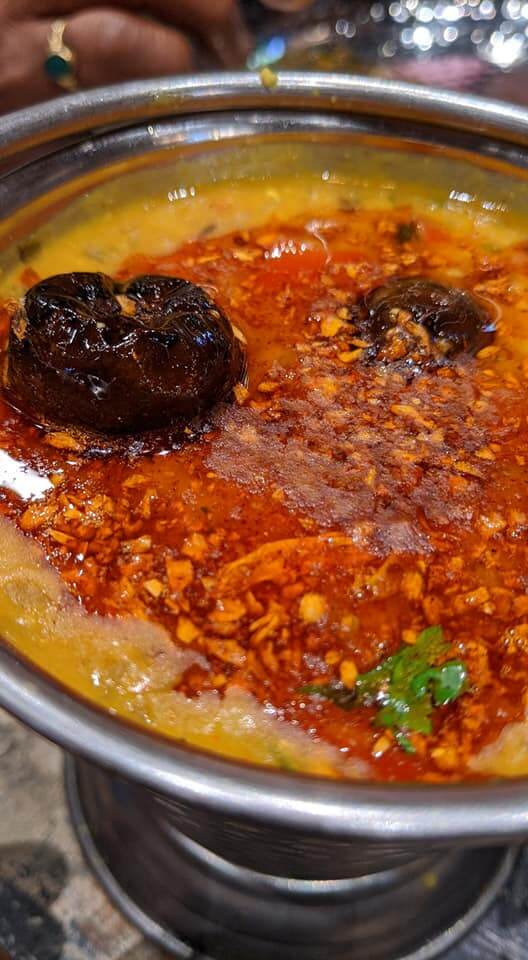 How did I forget!!! Dal tadka is love. End the meal with this and it's more satisfying.
Good to see such a good food place in kharadi. Hope they stay for long and maintain the food quality. I am sure going back for more.
This place is hardly 200 meters from the Raddision chowk.
#AmbarsariaAuthenticAmritsari #Kharadi #myfoodvoyage
This post is taken from Siddhartha Vilas Alhat's post in Pune Eat Outs.