#PEOConnect #2020BeganWithABang #NewYearMeal
#GroundUp #BlissfulFood #DetailedPostAlert
Ground Up is a 5-month-old venture at Viman Nagar which specialises in innovative gastronomy.
The concept revolves around understanding the ingredients, gathering and implementing a know-how of a plethora of food-related techniques and finally coming up with the cuisine.
Most of the stuff they get for you at the table is in-house or thoughtfully sourced and then smoked, dried and cured for months together to arrive at the final resultant to be used for cooking.
They even apply a best out of waste concept , as almost everything is used/reused.
Also, they go to a length of procuring vegetables/fruits which is about to be thrown by vendors.
Recently, I was at their place as part of PEO connect on New Year's Day.
#Ambience
As you enter the place, you get to see various plants, many of which are used in the cooking of their dishes. You can also notice a setup which they use to smoke the ingredients.Going further, inside you have a cozy cafe-style setup.
The seating comprises of beautiful white textured tables and extremely comfortable chairs.
And, for people who want to spend some lazy time, they even have a mattress where one can happily squat and enjoy their meal.
You would also notice some books related to food, cooking and related stuff.
One can also find some ingredients placed on the counter.Behind the counter, you can find their lovely crockery.
There is also a staircase which leads up to a place where a majority of their ingredients are placed in jars for pickling, curing, fermenting or for undergoing any of such techniques.
#Service
During our visit, we were there for a set 5-course meal. We were asked of our preferences for the 3rd and 4th course- veg/chicken/pork.
As our food was being prepared, served and consumed by us, we were acquainted by Rohan (who along with Gayatri)is at the helm of things at Ground Up about the concept.
Each of the dish was explained in the most articulate and detailed manner.
The focus with which I was listening, if I had even half of it during my studying days, I would have been amongst the toppers.
Such was the passion and depth of knowledge which was being shared with us.
On a day, if given chance, I wouldn't mind paying up just to have an informative session by Rohan and Gayatri. I was absolutely delighted,overwhelmed and humbled as being a foodie I got a realisation that there is still a way lot more to learn about food, ingredients, techniques etc.
All this going around, we never had to wait for food, and all our needs were being carefully looked after by the staff.
#Food
Well, to start with, it was a meal of a lifetime, as I had never tasted any of such food before.All the dishes were new to me and even had ingredients I had not even heard of.
First Course:Bean Tostada, Smoked Chillli Salsa– It had black Ghevda Beans, along with smoked chilli, tomatillo salsa,queso fresco cheese made from raw milk (without any preservatives) and vegetarian rennet and coriander on top.It was insanely delicious and well cooked.
#HighlyRecommended
Second Course: Potato Salad,Frozen Vinegar– It had roasted potatoes along with milk mayonnaise made of mexican chintexle chillies and onions being the hot side.
Kodo millet salad along with in house strawberry vinegar granita, parsley , coriander and scallion being the cold side of the dish.
They source the millets from Karnataka. As for the granita, the vinegar is boiled until it reaches a proper consistency level, Further it is cooled down, sugar is added to it and then its frozen.
#InnovationAtItsBest
Third Course: Broth– We had a choice between soy milk broth or chicken bone broth.I chose the latter for myself, but got to have a taste of the other one as well.
Soy Milk Broth had roasted pumpkin,hence the yellowish colour.It also had mushroom,watercress, in house prepared flat rice noodles and Rice fungus soyabean Miso.
Chicken Bone Broth had double smoked chicken bones along with naga peppercorn oil,watercress,green radish, flat rice noodles and miso.
Both of them were quite filling and delicious.
FlavourfulTummyFillingFood
Fourth Course: Banh Mi Sandwich – We had a choice here to choose between Pork/Chicken/Tofu.As earlier, I chose the pork one, but tasted the other two as well.
Pork Banh Mi: It had minced pork along with fish caramel sauce,parsley,onion chives,cucumber and Ambat Chuka (Green Sorrel).
Chicken Banh Mi: It had chicken marinated in lemongrass (taken from their own plants) and garlic,charred on the grill ,minced, and finally mixed with fermented hot chilli sauce.
Tofu Banh Mi: It had house made tofu, braised in sweet soy broth, smoked with babool wood and then topped with a cold peanut sauce.
All the three were kickass, in terms of taste, but the star for me was the bread they had used. It was #KillerStuff and I loved it. I would have liked the sandwich even more, had the quantity of tofu/meat was a little more, and other ingredients a little less.
Surprise Course:Post this, we were treated for a surprise dish of Silken Tofu.It had silken tofu with Naga Peppercorn Oil and Sweet Soy. Usually, we are used to Tofu being a substitute of paneer, and we get it in hard form almost everywhere.But as the name suggests, this was silken Tofu and was as soft as curd.Other ingredients included scallion and sesame seeds (both black and white).This was quite heavy on the stomach.
#RevelationDish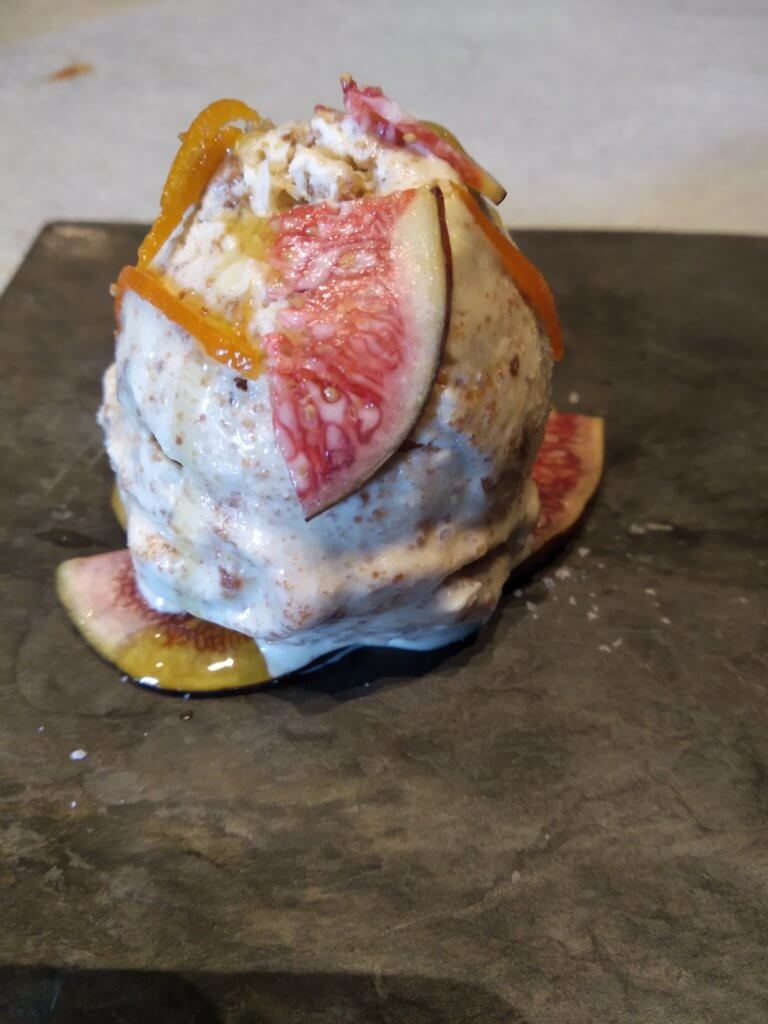 Fifth Course: We had two desserts to choose from here.
Black Sesame and peanut milk pudding with pink guava and lemon balm: The pudding was delectable and can make up for a spin-off dessert alone. The crushed pink guava and lemon balm added colour and flavour to the dish.
#Pudding Love
Sourdough Ice Cream with Smoked Salt, fig, preserved kumquat slices and cold pressed oil.
It was a novel dessert by all imaginations as I have never had a sourdough based dessert before.It was crunchy,exotic and an incredible end of a superb meal.
Kudos To Ground Up for gracing Pune with their exquisite offerings.
To Conclude, I have some suggestions for everyone-
Foodies: Do some favour to yourself and visit this place as soon as you can. One more way this place differs from others is that the menu is ingredient specific.
Hence , it keeps changing everyday. So, either you can call up and ask them the menu for the day, or even better, pamper yourself with a blind date with some divine food.
To GroundUp (Rohan And Gayatri): In my 4 years in Pune, I have witnessed that for non-regular cuisine restaurants like yours, there is a gap between you and the customers in terms of familiarity with food.
Now , food lovers/food connoiseurs/ people open to experiment will always throng your place.
But, if you want to reach the masses, you need to educate them about ingredients, techniques, your cuisine. You may apply several methods including videos/written posts on social media or maybe some better idea. But , having been to your place forged a connect with you, I seriously hope, entire Pune should know what GroundUp is all about.
To Restaurateurs and owners: You may call biased, but instead of resorting to theatrics like Molecular gastronomy which in my opinion is a visual treat, but not that wow in terms of taste.
One can always look up to GroundUp , get back to basics , experiment with various ingredients and techniques, and come up with rarely seen stuff which can appeal both to the eyes and taste buds.
Cheers!
This post is taken from Tarun Sexena's post in Pune Eat Outs.