Moshi Moshi – Koregaon Park.
Our Sushi Adventure Began With The Usual Line, 'Aaj Kuch Hatke Lunch Khaate Hain'. We Had Tried Japanese Cuisine Only Once Before, Though On This Occasion We Were On A Lookout For An Authentic Japanese Culinary Experience.
When Broken Down And Pronounced Correctly, 'Soo-Shee' May Not Sound As A Delectable Combination, Though When Savoured As A Dish As The Japanese Do, It Opens Up Doors To Endless Possibilities.
Moshi Moshi Did Just That, By Keeping The 'Kitsune's' (Shape Shifting Fox Spirits) At Bay, So We Could Concentrate On The Visually Appealing Food Complemented By Their Chic Oriental Decor.
Nuff Said, To The Food Now-
Gyoza (Dim Sum) – 'Belgian Pork Sui Mai'.
An Open Faced Dumpling With Minced Pork Filling Served In A Bamboo Steamer Alongwith 'Rayu' A Sweet-n-Spicy Red Oil And 'Karashi' Japanese Hot Yellow Mustard. It Took One Dumpling To Get My Taste Buds Accustomed To The Slow Cooked And Tightly Stuffed Minced Pork Within. Thoroughly Enjoyed The Next Three Dumplings Topped With The Right Amount Of Sauce.
Sushi's Are Served With Shoyu (Soy Sauce), Pickled Ginger And The Brain Tingling Wasabi Paste.

Uramaki (Inside Out Sushi Roll) – 'Veggie Tempura With Spicy Mayo'.
It Was Topped With Miso Paste And An Edible Flower, The Outer Covering Of Fragrant Jasmine Rice Regaled Us With Its Ingeniousness.
Makizushi (Traditional Roll) – 'Sake To Ebi Maki'.
The Raw Salmon And Boiled Shrimp Rolled In Jasmine Rice With Outer Covering Of Nori (Seaweed Sheet) Stood True To Its Character. Again The Edible Flower Was No Less Than An Icing On The Cake.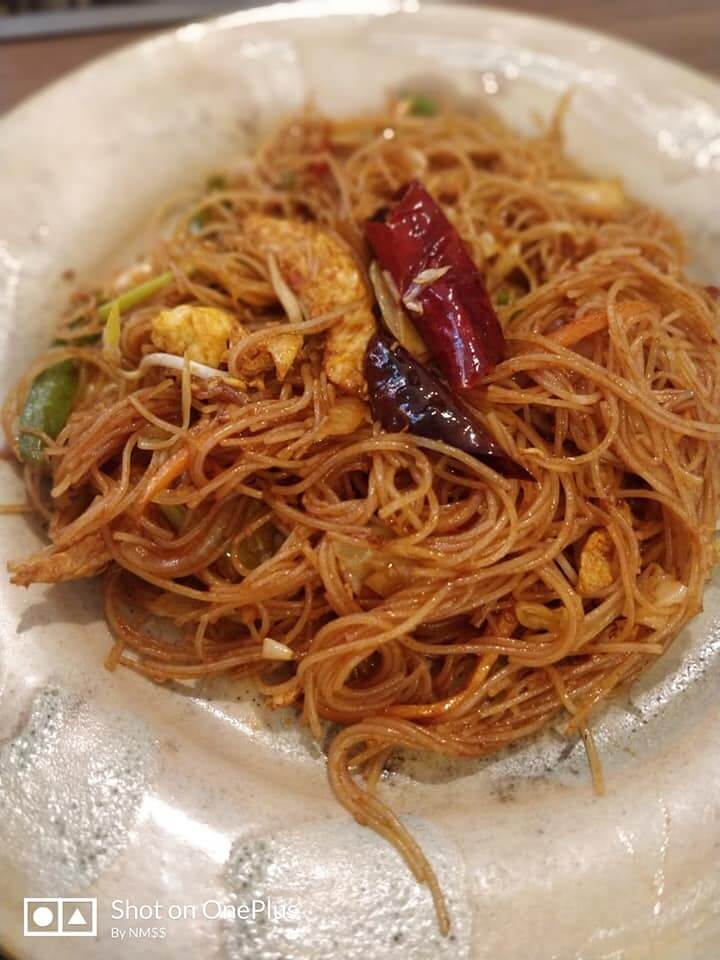 We Didn't Feel Like Stopping Our Japanese Cuisine Excursion At This, Though With A Heavy Heart We Had To Calm Ourselves Down And Get Our Feet Back On The Ground. Thus, Next We Settled For Two Of Our Favourites, A Burmese Khow Suey And The Singapore Noodles.
Moshi Moshi Is A Unique Culinary Experience, It Rejuvenates Your Soul And Any Apprehensions That You May Have About Japanese Cuisine Are Set Free.
Ki-o-Tsukete (Take Care).
This post is taken from Mihir Sukhthankar's post in Pune Eat Outs.