Malaka Spice, Baner
#friendsofpeo
We visited the Baner outlet of Malaka Spice after a long gap this time and were in for a wonderful experience. Since the visit happened during Ganeshotsav, we restricted ourselves to only vegetarian selections from the menu. We ordered some of our favourites from the menu here and also tried a couple of things that we hadn't tried earlier.
Madurasi had a delightfully flavorful broth with pepper, cloves, lemongrass, galangal, bird's eye chilli and kefir lime and some vegetables. It was perfect to whet the appetite and just what I needed to clear my sinuses on that particular day.
Thai Spring Rolls: we had a small portion of these crisp spring rolls, stuffed with minced vegetables and rice noodles; they went well with the peanut sauce served alongside.
Lotus Stem Tango: crisp fried lotus stems tossed in a tangy, spicy, sweet sauce. This one was largely polished off by the toddler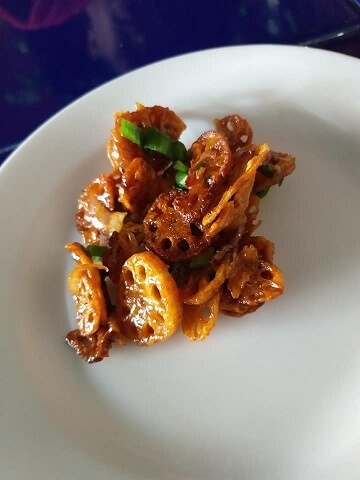 Veg Top Hats: A Malaka Spice must have and I don't remember ever leaving this place without a portion of top hats, but I definitely prefer Chicken Top Hats over the vegetarian version.
Ended the meal with a delicious cashew nut and coconut-based Kari Kapitan, paired with Roti Jhala for the adults and steamed rice for the little.
Another thing that I noticed on the menu was that they have given recommendations for seafood based on seasonality and time of breeding for different fish species. As someone who is trying to make small attempts at sustainable living, their efforts at helping diners choose right are truly appreciable. They already reduce their carbon footprint by including seasonal food and farm-fresh produce on their menu, and this additional effort towards ocean resources shows their commitment towards the cause. I only wish they also include more diverse options in seafood beyond the limited 5-6 species that I could spot in the menu.
Service was impeccable as always. Debashish, our host for the afternoon made some excellent recommendations and was very efficient with the service. He along with the other hostess who helped us getting seated were extremely helpful and co-operative with the child.
This post is taken from Nitali Tadkalkar in Pune Eat Outs.