#manasiVirenReviews #friendsOfPeo #savyaRasa #aTripDownSouth #longPostAlert
Special occasions call for special meals.
I had earmarked Savya rasa ever since Aniruddha, Vijay and Kamlessh had written particularly tempting posts long long ago, but somehow, the plan of visiting never materialised.
Viren 's birthday last week was the perfect occasion, when finally everything fell into place and we decided on a family dinner at this lovely place.
A notable mention is, all, trust me- ALL the PEOple who've been here, and whom I asked for their opinion unanimously gave nothing but good reviews. #noRegrets they all said. The pricing for the place was a bit on the higher side, but don't think twice, they urged.
ठरलं तर!
#houDeKharcha
We booked through the PEO app, and chose the PEO set menu deal. This includes a set vegetarian menu for 749++ and non- vegetarian for 1049++.
Located in the lane adjoining Starbucks just at the start of North Main Road KP, Savya rasa is in a quiet neighborhood, amidst an array of classy eateries, from 1441 pizzeria, Zen Cafe to Abyssinian. Even though the lane is too narrow to drive into, they do have valet parking to put you at ease.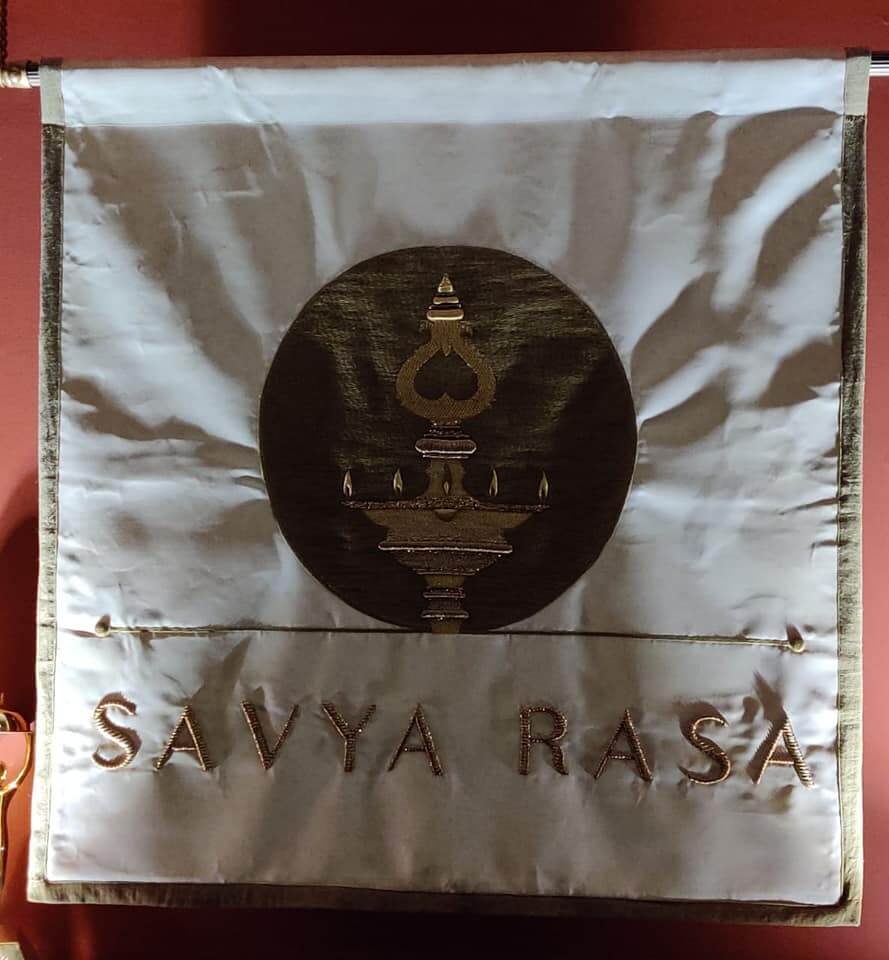 Step into the restaurant, and you get the feel of being inside a beautiful house in the Tamil part of Pondicherry! The bright yellow painted walls, cane chairs, huge tapestry of traditional Kalamkari work on the wall opposite the entrance, traditional musical instruments, handpainted lamps, antique wooden furniture- all form a part of the decor. The ever- smiling staff is dressed in white, with the gold- bordered veshti we stereotypically associate South Indians with!
I would specially like to applaud Sam, the restaurant manager. Right from addressing my concerns over the phone when I called in the morning, welcoming us and ensuring he drew up extra chairs and a table (since I'd miscalculated the number of people!🙈) on a Sunday evening when they were already busy, explaining to us the nuances of the menu and food, ensuring nothing fell short (we were a huge group of 15 with varied food preferences- and none of us had anything to complain about), to seeing us off with a smile even though it was well past his duty hours- he did his bit to make us feel welcome (qualities of a true Tamilian!)
Food is served in brass utensils, the plate lined with a traditional horizontally- placed banana leaf.
We started off with rasam and fried papads.
The rasam was absolutely 🔥!
The traditional rasam, runny in consistency, is prepared out of वरणाचं पाणी and has a tartness provided by tamarind or kokum, with the flavours of tomato, and the kick provided by chilli pepper and black pepper. The masalas are ground traditionally with a पाटा- वरवंटा. This rasam was the closest I've had in Pune to the authentic Tamil rasam. When you savour it, it gets your juices running with a ठसका if you swallow too fast! Perfect appetizer for what follows!
The papads reminded us of the sabudana papdis our Ajji would make in Chembur summers when we'd go visiting as kids. Score!
The vegetarian menu had three starters.
My favourite was the kuzhi paniyaram. (Pronounced कुळी पणियारम्)
Steaming hot paniyaram, or 'appe' as we call them, very flavourful, infused with seasoning of mustard, ginger, green chillies, crushed pepper, grated coconut and Curry leaves, and served with three brilliant chutneys- a 'no airs' fresh white grated coconut chutney, a red imli chutney and a green coconut, coriander and mint chutney. Each one was distinctly different and flavoursome- something you could savour on its own as well.
The rawa wadai was like the 'keer wadai' we get at tea time in all Tamil snack joints. Crispy, made out of rawa, coconut and coriander with chopped green chillies and golden- fried, they were served piping hot.
The Urulai podi varuwal was made of boiled skinned baby potatoes tossed in a tadka with podi. This one was a bit spicy- but so tasty that we had second helpings alongwith gulps of water.
The non- vegetarians in the group don't eat mutton, so were served a fish starter- Anjal rawa fry (draped in banana leaves), and a chicken starter. Both were unanimously declared to be excellent!
The mocktail we were served with the set menu was the Nannari sherbet, made out of the root of the anantamul tree indigenous to South India, known to relieve digestive problems, and also has antioxidant properties. Very soothing, especially in the summer heat, when served chilled.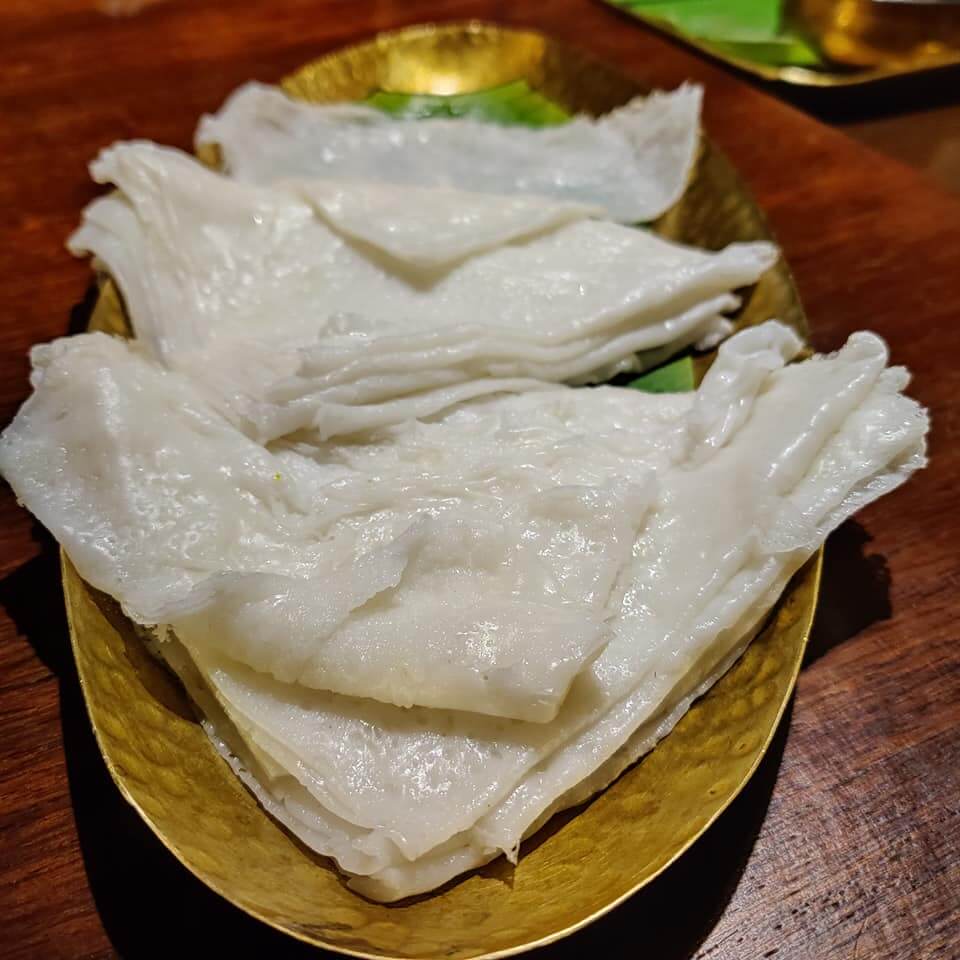 In the main course, we had the neer dosa with batata pathanja gassi. The neer dosas were delectably soft, thin and yummy. The potato and moong gassi it was served with was out of this world! Made in a coconut- based gravy, it was highly flavourful- had us licking our fingers.
The bun parotta was light, flaky, served steaming hot, with an accompaniment of a mushroom- based gravy which I would've preferred to skip, given that I was so impressed by the potato one!
(By this time we were already full, yet the food kept coming!)
The vegetarian rice served in the menu was something I'd had for the first time ever. The 'Vetrilau poondu saadam' as it is called, had hand- pounded spices, golden fried garlic and believe it or not- chopped betel leaves! Piquantly palatable- this one too, gets your juices running….. Only to be soothed by the veritably pacifying 'thair saadam' or curd rice, without which no South Indian meal can ever be complete. I just have two words for this- simply superlative!
Judging that the diner would have, by now, stuffed themselves so much that moving from their place would be near- impossible, the Savya rasa team brings you a traditional warm hand- wash at your place! (Not a finger bowl- this is way grander!)
And they then ready you for dessert!
The trio of desserts served include elaneer payasam– a sweet coconut- milk based kheer- makes you feel as if you're eating 'shahala' that's sweetened. This one was a tad too sweet for my taste.
The other two were halwas- the Kavuni Arisi halwa was my favourite. A coarse rice- based halwa cooked in ghee and milk, garnished with cashews- this was just perfectly sweet and खमंग.
The second was the karupatti halwa– similar to the badam halwa we have, albeit much fresher and with oodles of ghee.
Another point worth mentioning was that we had three vegans in the group- who opted for the a la carte menu. Each and every dish they had too, was exceptional. The best was the tender coconut pudding (which jiggled!) and appam with stew.
A very very satisfying dining experience.
My compliments to PEO and the Savya rasa team for designing a menu that is so varied and all- encompassing, that it is almost like a mellifluous symphony for the palate!
There are a few things that cannot be measured for their value in monetory terms, and a dinner at Savya rasa is exactly this!
With Viren, Viraj Naralkar, Vidya Naralkar, Vivek Naralkar, Sunil Hingmire, Shubhangi Hingmire, Dhruvang Hingmire, Priyanka Gunjikar, Chinmay Kulkarni, Tanvi Kulkarni, Reshma Kulkarni.